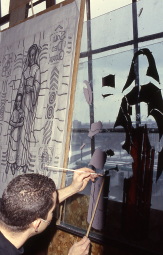 Whitney Stained Glass Studio offers outstanding craftsmanship in the design, fabrication and installation of stained, leaded and faceted glass windows.
We specialize in the conservation of existing windows and have restored windows by Mayer, Connick, Burnham, Wright, Tiffany, LaFarge, Hardman, Gorham, Lamb and others.
The studio applies expert craftsmanship to the creation of new windows, with designs ranging from traditional painted stained glass figures to abstract and contemporary windows. In addition to leaded glass windows, Whitney Stained Glass Studio fabricates works in dalle de verre and etched glass.
If you have a question about stained glass or would like an estimate on new or restoratative work, please don't hesitate to contact us.